Courtesy of: ALEX BHATTACHARJI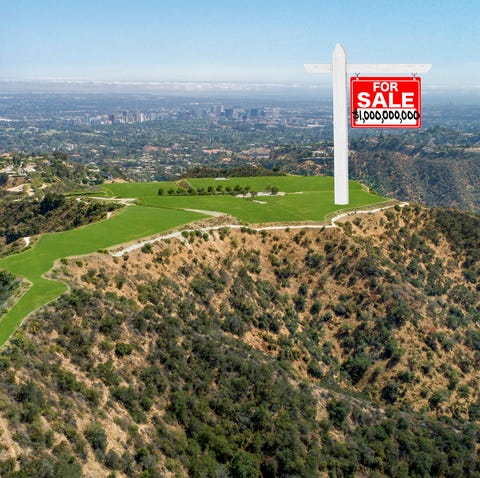 To reach the Mountain, one must go beyond Shangri-La. A quarter-mile uphill from a cul-de-sac named for the mystical utopia, there is a 30-foot-wide gate beyond which lies another place of mythic proportions: the highest-priced residential property listing in history, a 157-acre hilltop aerie with a series of sprawling, manicured fields on an escarpment rising to 1,360 feet in California's Santa Monica Mountains with 360-degree views—and an asking price of $1 billion.
"It's on top of the world. It's the pinnacle of luxury, the pinnacle of Beverly Hills," says Aaron Kirman, the broker handling the sale. "Nobody's looking down on you. You're looking down on everyone else."
Indeed, from this perch above Benedict Canyon you can make out in the distance the mansion Rupert Murdoch was going to sell to Leonardo DiCaprio but instead sold to his son James in 2014, for $30 million, and just above it the undeveloped 120-acre Enchanted Hill, which was owned by the late billionaire Paul Allen and is listed at $150 million.
The views extend to Malibu, where Hard Rock Café co-founder Peter Morton's oceanfront house, designed by Richard Meier, recently sold for $110 million, the most ever for a home in Los Angeles County. Closer by, there are the Bel Air estate owned by late Univision chairman Jerrold Perenchio, the priciest home listing ever in the U.S. at $245 million, and the 100,000-square-foot gigamansion built on spec and called the One that will be asking $500 million when it officially goes on the market.
"We're above what will be the most expensive residences in the country," Kirman says. However, the Mountain of Beverly Hills is not a residence—it is conspicuously free of buildings of any kind. "Look around: It's immaculately landscaped. It's green," Kirman says. Then he points: "Look!"
A young mule deer buck ambles out from behind a hillock and onto a flat expanse of grass, creating a striking tableau. "Oh my god, that's so pretty," Kirman declares. "I love that."
At present the deer is the lone resident of the Mountain, which has had many owners but no human occupants. For more than 40 years this fabled property has fueled the imaginations of grandees only to foil their plans, as foreign royals, entertainment moguls, and billionaire entrepreneurs have all failed to break ground. Now, thanks to its unprecedented price tag, the Mountain is in the spotlight as never before. Despite, or perhaps because of, that fact, this property, long a white whale, is at risk of becoming a white elephant. When the dust settles, this spectacular billion-dollar listing may remain unbuilt and available for a buck, white-tailed or otherwise.